In typical Housewives fashion, everyone is taking a group trip and this time we're going to the place that apparently Joyce owns, Puerto Rico.  Obligatory "ole!"  I truly believe that no one is more excited by this trip than Kim Richards, who is busy telling stories to us in Spanish that consist of her liking all the boys who dig up garlic and swim in the water.  I think Kim should be allowed alcohol and/or pills during her one-on-one interviews as long as the doors are locked.  That seems fair, right?  Other than that no one seems to understand that just because you're going to Puerto Rico doesn't mean you have to say every word you know in Spanish and all at the same time.
Unfortunately Joyce's father passed away, but instead of canceling the trip she's still going as she is desperate for camera time.  When they all arrived at the airport and Joyce made her "death announcement" was it odd that no one was really looking at her and they just remained quiet even after she was done with her speech?  My guess is that Lisa was thinking about Giggy in a sombrero ordering chicken and cheese quesadillas on the beach whilst wearing a fur banana hammock and licking Ken's grey mullet.  That was a mouthful!  I'm referring to Ken's mullet.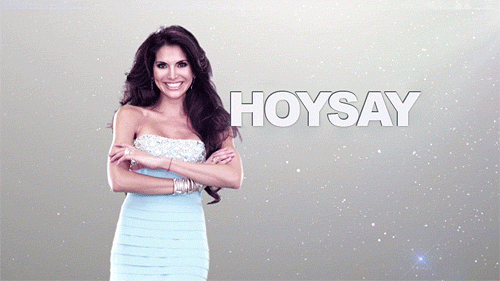 We quickly learn on this trip that everyone (including the editors) are against Lisa.  See what happens when you're on Dancing With the Stars?  People get vicious.  Yolanda is looking to find out if Lisa is her "real friend" or her "Hollywood friend."  Uh, did she mean "Beverly Hills friend."  Someone review her citizenship papers and revoke her license.  The best, however, was when they all arrived to the hotel that Joyce picked out and Lisa and Ken looked like they thought they were vacationing in Auschwitz.   No joke they didn't even want to touch anything.  Lisa's biggest complaint was having to share a bathroom with Ken and possibly seeing him sit on the toilet during the trip.  Just because you share a bathroom doesn't mean you have to use it at the exact same time.  It's a choice, really.  It's like prison sex.
Apparently since Kyle and her hair are trying to mend fences with Lisa, Brandi thinks now is the perfect time to bring up how "off-camera" Lisa tried to force Brandi to bring the tabloids of Mauricio's affair with them on their trip to Palm Springs.  Kyle feels to betrayed that she can barely sit on her beach chair without her towel covering her FUPA.   I don't know why Kyle and Mo are all bent out of shape.  It's like, be grateful anyone is talking about you at all.  Hell, I'd do naughty-no-no with a homeless person in the crown of the Statue of Liberty on the 4th of July if it meant I'd get some press for it.  (Note to self: Purchase tickets to the Statue of Liberty.  Bring a camera.)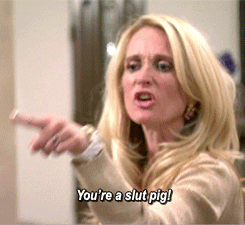 No one is more upset than Mauricio.  He's in an absolute huff that his "friends" would ever do this to him.  He doth protest too much, methinks?  Lisa doesn't want to be confronted by any of this and walks away many times where little trickles of water fall from her eyes.  I don't think we usually see Lisa cry on camera so I almost want to sort of believe her.  I'd also like to go on record stating that I don't actually care either way.  You know who else is getting all bent out of shape over this?  Kim.  Score!  You know who is the least involved even though this is supposed to be her fight?  Brandi.  I'm torn.  I don't know who to believe.  I'm questioning all of my life choices at this point.  Damn you Bravo!
Later, whilst on the bus back to the hotel, Brandi starts bringing up whether or not Lisa knew Schenna prior to her being at the opening of SUR.  Brandi thinks that Lisa put them in a room together to get camera time and spark up some press for her new business and future spin-off show.  And?  It's like, yeeeeah.  That's the point of being on reality television, right?  You want to makes some extra money.  Personally I want to thank Lisa for all of this as she brought Vanderpump Rules into my life and it's pretty much the best thing that's happened to me since The Hills.
In the end, everyone is pissed off at each other so it makes the most sense to all sit together to have one giant awkward dinner.  You know me, I love a nice dinner brawl.  Kyle wants to find out who is lying about "packing the tabloids" (yawn) and Ken is getting all riled up!  The best, of course, is when Kim gets involved in calmly explaining the situation and Ken tells her to be quiet.  She responds with "You're a stubborn old man.  Now shut up!"  Somehow that morphs into Kim complaining that they never went to her daughters graduation party and then Ken asking Kim why she never made it to his daughter's wedding.  Kim said she was "packing" that day and Ken starts laughing saying "Oh yeah, packing."  I mean, she could have meant packing pills so what's the big deal.  After Lisa and Ken excuse themselves from the table to get away from the "bullying" Ken questions weather Kim is drunk or on pills right now.  Ba da ba ba ba, I'm lovin' it!
Sadly, Lisa and Ken retreat to Auschwitz to drink some Pinot and oddly smoke cigarettes like it's pot.  I have to say I don't love that everyone is turning on Lisa.  Even if she did so some shady shiz behind the scenes they should be thanking her for keeping this show alive as long as she has.  I mean, if it wasn't for Lisa we'd be left with a cast full of Carlton's.