If your kids are ready to take their unboxing addiction to a whole new level, they may just lose their minds over the new Treasure X Aliens toy.  Things are about to get messy.  Read on!
Treasure X Aliens are slated to be one of the best toys of 2022.
Slice open their slime-filled belly to 'unbox' surprises like your Treasure Hunter, a weapon, and a real space gem.
There's currently 18 different aliens/treasure hunters to collect in Series 1.
They'll be released to buy on July 1st. Pre-Order available now!
Priced at $14.99
Everyone once in a while a toy comes out that we know is going to sell out just as quickly as it hits store shelves.  One of our new favorites of the year are the Treasure X Aliens.  Instead of just ripping boxes open, your kiddos are going to have to perform surgery of sorts on these collectible gruesome aliens.
What are Treasure X Aliens All About?
It's time to save your adventurous Treasure Hunter that the aliens have abducted and, well, eaten.  There are currently 18 different aliens to collect and dissect in Series 1 of Treasure X Aliens from Moose Toys.  Each alien comes individual wrapped in really cool packaging.  You'll get to see which alien you're getting through the green-tinted plastic (either red, blue, green, etc).  But, don't worry, the real surprises are inside that alien.  And, yes, we're actually talking about inside.
Each one comes with kid-friendly 'tools' like a scalpel and tweezers.  Simply place the alien on its back and use the tools to easily slice away its belly to reveal a whole bunch of gooey surprises inside.  We say gooey because, yes, there's slime in there!  First you'll have to remove the ribcage and then you'll use the tool to poke through the slime package inside the belly.  Next up, use the tweezers to start pulling things out and find all sorts of surprises.  Inside you'll find things like special weapons (guns, swords, etc), intestines that have a special treasure inside, the prized treasure hunter that you're looking to save, and even a real space gem mined from meteorites!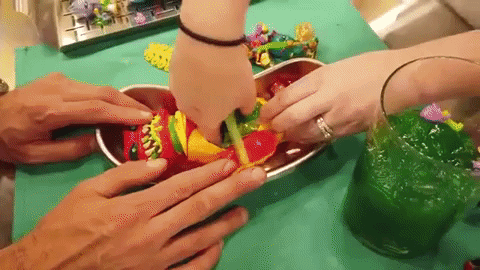 Of course, you get to keep the slime that comes inside your alien, but that's not all!  You can flip back the alien head, stuff the slime inside it, and then squeeze the body and head until all the slime comes oozing out of its eyes, mouth, etc.  It'll even store the slime for you so they can play with it whenever they want.  We. Are. Obsessed.
When is the Release Date?
These creepy aliens will officially be released on July 1st.  You'll be able to get them at major retailers and online at places like Amazon (of course).
How Much Will This Cost?
The price is actually pretty decent, which is another nice surprise!  The suggested retail price is just $14.99.
Treasure X Alien Single Pack – Buy It Here
---
Buy Other Cool Treasure X Stuff Here →
More Toy to See:
Juno the Interactive Elephant is the Cutest Toy Ever!
Lumies by Pomsies are Here to Light Up Your Life
A Dancing Baby Shark Doll?  Yes Please!
The How to Train Your Dragon Hatchimal is the Cutest One Yet!