In case you're reading this from the great planet of Mars, the world is basically under lockdown due to the Corona Virus or the "Stay-the-F-At-Least-20-Feet-Away-From-Me" Shuffle, as I like to call it.  For real, it's hell out there and we could all use a distraction so when I saw that Tiger King was trending on Netflix I thanked my sweet baby Jesus (from 6-feet away) for providing new content for me to devour as I have watched, literally, all of the television already.  In other news, I haven't changed out of my shorts and t-shirt for 5 days and I made vodka and ice cream for breakfast this weekend.  Yes, we've all become human garbage disposals.  I'm basically like that pig that lives under the sink at the Flintstones house.  You know the one.
Anymeth, Tiger King is, and I don't want to oversell this, the best thing I've seen since Season 1 of Making a Murderer.  Please note there are likely some spoilers here so if you haven't seen it yet, stop reading.  I mean, full disclosure, I'm sure to mess up most of the details as I am still in awe what my eyes have seen, my ears have heard and, most likely, my nose has smelled.
The Tiger King, also known as "Joe Exotic" is gay man (we think) with a bleached mullet (that's stringy) who allegedly used to struggle with meth (used to?), is married to multiple toothless men (for real, just a tooth or two is visible), owns a zoo with hundreds of tigers that he breeds (shame), has his own internet television show (totally jealous), is apparently also a country singer (honestly, not that bad), ran for President (and then governor), is trying to get a reality show (who isn't?), sometimes walks with a cane (for reasons that are never explained), has a super odd eyebrow hoop ring (that distracts me in every scene), carries one gun around his waist (as you do), and randomly shoots at people on his property (for sport).  Phew!  I'm legit out of breath.  What did I miss?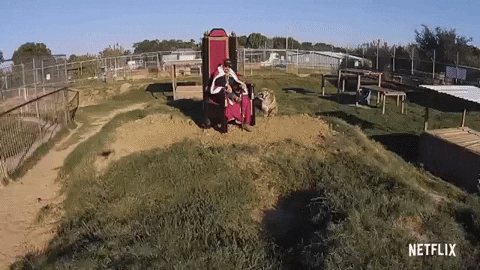 Like with all these docu-series, I can never believe that people like this actually exist.  Like, they're real.  And I'm always surprised how they live in squalor.  Typically I can't eat while watching these things.  I make a sandwich and then have to throw it right into the trash.  And since food is limited these days, that's saying a lot.
Was it just me who was so grateful that this series was filmed over 5 years?  5 years!  You know what happens to my life over the course of 5 years?  I start and quit the gym about 7 times.  Literally, that's it.  For Joe Exotic he somehow builds a zoo, creates and online television show, and picks a fight with Carole Baskin, a whimsical woman who owns Big Cat Rescue…and needs to prove me wrong that she's not Farrah's mom from MTVs "Teen Mom."  Oh, and he also ends up going to jail for 22 years due to a murder-for-hire plot against Carole and killing of bunch of those poor tigers.  The point is, he's a real spunky go-getter who seems to live in this alternate universe where you kinda-wanna visit, but feel like you'll easily get sucked into the cult.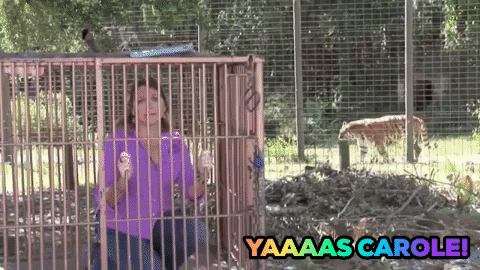 And it is, like, a cult right?  Like, people on camera (most of whom are also missing the majority of their God-given teeth) say things like, "I just went to his zoo one day to feed a bear and I ended up just living there!"  That's not a joke.  It's real.  Like, that's only acceptable to say when you visit Disney World, for instance.  But you don't actually do it!
And then they interviewed some other woman who escaped "the zoo" but not before falling into a "trap" where she got breast implants for free.  Honesty, I hear more people fall into breast implant traps than you can shake a stick at. She said they kinda just signed her up for them and then, boom, knockers!  I mean, she also said that one day she just decided to go and live at that zoo and her dad dropped her off there and said, "Now don't go falling in love with him!"  What?!  And then we never really heard from her again.
I think that the Tiger King's "husbands" were so suspect.  One of them just sat in a broken down cabin, without his shirt on, and his gut hanging out the entire time.  And when he smiled he had one tooth towards the left of this mouth and a half-tooth to the right of this month.  It's like they were running from each other.  How do you have all that tattoo money, but no money for toothpaste?  Love is blind, apparently.  Oh, and then Joe Exotic married some 19 year old kid who showed up to the zoo and never left.  Spoiler alert, both men claimed to not have been gay and that they just really liked meth.  So there's that.  It's like who cares about labels, true, but there aren't other ways to get your poverty-stricken hands on some meth outside of pretending to be gay-married for 11 years?  I mean, they do say anything can become a habit after 21 days of doing it so I guess you never know.
I also loved Joe's singing career.  For reasons that are never really explained, he sometimes records his music videos in a priest's outfit.  He honestly has such a costume budget.  Like, where did he get that rabbit outfit (you know, the one he smeared with fake blood) so he could protest in front of Carole's house?  Not a bar of soap to be found for miles, but an endless supply of costumes.  Eh, there's probably a Spirit Halloween somewhere on his property (it used to be a Circuit City most likely).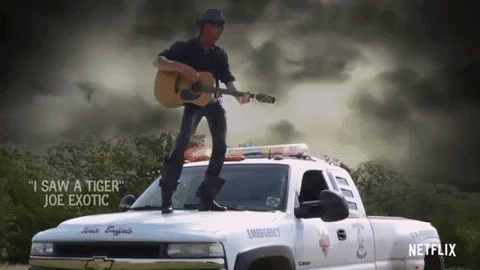 I'm apologizing mid-way through this for how random my thoughts are, but reliving all this has me going all 6's and 7's.  And what was the deal with that other zoo keeper (who also has as many tigers as he does rando-wives)?  You know, the one that kinda looked like Kenny Roger (R.I.P.).  And why is no one talking about the apparent correlation between men, tigers, luring multiple wives, somehow incorporating Las Vegas into the mix, and long hair?  For all the single ladies out there, your first Tinder match question should be "Do you own an exotic tiger?"  And if they say "yes" just call the cops.  They'll know what to do.
Also, let's get back to Carole because I am obsessed.  I honestly don't know if she's trying to save "big cats" or if she has a zoo herself.  And where is she getting all those flower-crowns from?  And why do all these characters have such easy access to green-screens?  I love how every time she creates her daily videos she always starts with "Hey there all you cats and kittens!"  Moving forward I will only be addressing people that way.  I'm talking to you mail-man!
Now, Carole is married to some dude who loves to watch music videos that some random red-headed woman creates where she sings about big cats.  Oh, and totally forgot to mention that it was alleged that Carole may have killed her first husband and fed him to the tigers because he was going to divorce her and leave her with nothing.  She claims he just disappeared and headed to Costa Rica (allegedly).  The good news is that she did allegedly inherit his millions so that doesn't look suspect at all.  I also say "allegedly" because Carole allegedly loves to sue people for allegedly anything so I'm just saying I believe Carole is a good person, who's innocent, and I think she's also allegedly a dreamy-fairy who does a lot of good in the cat community.  Me-ow!
Speaking of green-screens, Joe Exotics's online television show was like nothing I've ever seen before.  He basically just went on the air every day to yell at Carole, dress up a blow-up doll to look like Carole (sometimes he put a dildo in her mouth, you know, for good measure), and once he just shot said doll with his gun.  I believe, and now don't quote me, that he put a fake Carole head into a jar and used it as a prop on his set like Andy Cohen does on Watch What Happens Live.  TBH, I'd be the bartender guest on both shows if they asked me.
I guess this is the part where I should, of course, state how terrible it was how he treated those animals and it's all bad and wrong and never go to a zoo and wash your hands.  I want to make sure I don't get PETA on my back!
And what was with all the guns?  And I mean allllllll the guns!  I know I live in NYC and, yes, I know we're in a bubble, but do people really like guns this much?  Joe Exotic made daily (daily) trips to the gun shop to pick up supplies like I stop at Dunkin Donuts to pick up my medium iced coffee (black, because sometimes milk upsets my stomach and, yes, I'll see my doctor about that).  Not only guns, but explosives too.  And then he goes back home to just blow random stuff up.  Once he blew up his mattress.  Usually he's blowing up dolls that are made to look like Carole.  At least he stays consistent.  Although, that one time he did blow up his entire television studio so that no one could have access to his tapes.  I forget if that's before or after his second husband accidentally shot himself in the head on camera. On camera.  CAMERA!  He died.  Joe Exotic dressed like a priest and sang at his funeral that, yes, was at the zoo and, yes, this poor kids mother was there singing and dancing in her seat too.  So. Much. To. Unpack.
Watching Joe and his husband(s) kiss on camera was exactly like watching Michael Jackson and Lisa Marie Presley kiss at the MTV Music Awards when they got "married."  It's like, everyone involved in that kiss (including the viewers) hated it and look like they're about to kiss a toaster in the bathtub.
Now it's time to talk about the "food" that they feed the animals.  Apparently it costs up to $70,000 a month to feed all the animals at the zoo.  Seriously, how does he have any money at all?!  Evidently places like Walmart give them meat that people decide they don't want, so they feed it to the animals.  Gross.  Don't even get me started on having to watch them slaughter cows and horses and then drag them into the tiger cages.  Vomit.  That's where I officially dumped my sandwich directly into the trash and started singing the alphabet with my eyes closed until the scene(s) were over.  To make things worse, and to throw us another curve ball, Joe ended up opening a pizza restaurant at the zoo (called Zooters, for real) where they used the bad meat that was delivered from Walmart on the pizza.  I can't.
There was some crazy multi-million dollar lawsuit between Joe Exotic and Carole that went on forever over copyright infringement (of all things!) where Joe stole the name of Carole's business and then used it to try to defame her or something.  I don't know, I could barely follow.  All I do know is that he lost and Carole won like a million dollars from him.  Since he didn't have it she wanted his bed, cars, and explosives.  That's why he blew it all up, as you do.
There's so so so so much more that happens, of course.  So let's just do a lightning round, shall we?
Jeff Lowe, the other tiger guy who comes to "save the day" is super suspect in my eyes.  He also told his pregnant wife that she'll be immediately going back to the gym when she has the baby.  He's also online looking for a hot nanny to help them out.  I think they allow three people in their marriage so, sorry ladies, he's already at full capacity.  Better luck next time.
That one woman who worked at the zoo lost her arm (during filming) from a tiger attack, but decided to have the doctor amputate it so she could quickly go back to work.  Please keep her in your thoughts the next time you get pissed that your office didn't close during a snow storm.
Once the FBI came knocking and needed an informant, I'm glad they basically chose Francis from Pee Wee's Big Adventure.
Why does no one make their bed?
Where can you buy all those glittery cowboy shirts?
When Joe ran for President and Governor, he passed out condoms with his face on them and talked about really getting screwed.  Just some ideas to ponder over no matter who you're voting for in the 2022 election.
Who are these people that just love taking their picture with baby tigers for Instagram?  How did I miss this trend entirely?  Eh, I must still be Boomerang'ing my "cheers drinks" instead.
Press #1 if you were one of the people who donated to Joe Exotic's mother's Go Fund Me page.
Are you as obsessed with recorded prison phone calls as I am?
Do you think that one random dude with the tattoo tear drop spent all of the $3,000 "murder for hire" money and used it all at the strip club? Also, can you imagine what strippers there must look like.  I have one word for you:  Superglued Chiclets for teeth.
Why was Carole always laughing about all the death threats?  She had that Hillary Clinton laugh like, "Ohhhh he said he as going to cut my head off hahahahah."  It's really just a nose-laugh, at best.
I mean, that whole conversation about Joe's "Prince Albert" ring and that lock on the wall? Too.  Much.
Like most of the animal interactions, watching Joe get dragged by the tiger (allegedly because someone sprayed cologne on his shoes…and you know it was either Drakkar or Curve) was horrifying to watch especially when he hit them with his cane, said he'd shoot them between the eyes, and then someone just started firing a gun into the air to scare them.  Horrific.
Anyone else so bummed that the court case was never shown?
I'm hoping there will be a season 2 of Tiger King and we get to see the feds take down everyone else.  Also, Carole could get her own spin-off if we just focus on the disappearance of her husband.  Hopefully, like the current FDA, Netflix can fast-track this.
So anyway, in conclusion I'm sure I missed so much but, hey, I'm not a court stenographer.  In a time where we could all use a major distraction from the reality of our current lives, this was a much needed break.  Every episode left me stunned, horrified, and puzzled – but it also left me laughing at times and press pause so I could just study all their home decor.  Just me?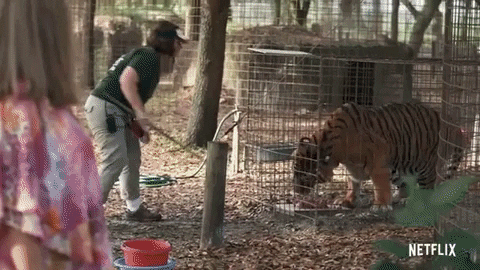 I have a pretty good conversation going on over at my Facebook page where we are discussing all of this.  Feel free to join me over there.  Thanks all you cats and kittens!
Contact the Author
★  Facebook – Connect Here
★  Instagram – Connect Here
★  Email – Connect Here