It's slated to be one of the must-have toys of the upcoming holiday season, so now's the time to decide if you're going to want to buy the new L.O.L Surprise Winter Disco Chalet Doll House for your kiddos or just leave it up to Santa.  Spoiler Alert: You're going to want to buy it.
If your kiddos loved their LOL doll house from last Christmas, they're going to give Santa an earful this year!  Start saving your pennies because this one is pretty expensive but, we have to admit, it's going to be totally worth it.  You won't believe some of the things this Winter Chalet has.  We legit want to live in it…or at least rent it for ski season.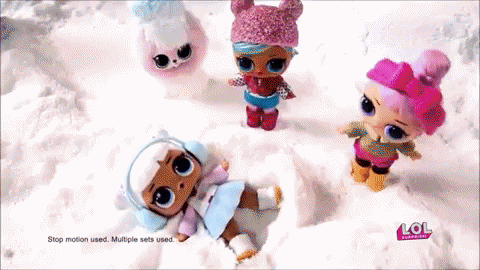 What's Inside the Winter Chalet?!
In a word; everything.  This is one of the most technologically advanced doll houses we've seen in a minute.  We'll get into all the details, but let's just say it has a light-up ice skating rink and a chimney that actually shoots out snow.  Snow!
Overall this chalet is almost 3-feet tall and 3-feet wide (with 360° play) so be sure to make room for it in your home!  There's 3 stories of super fun play and adventure with 6 rooms that have the most amazing transforming furniture ever.  In fact, once you open this up there are more than 95 surprises inside for you unbox.  Blind bags for days!  Here are some of the best features you need to know about:
 This chalet is 3-stories tall and has 6 really cool rooms to furnish.
 It comes with an exclusive winter family named:

Ice Ice BB (the baby!)
Ice Ice Boi Boi (the boy doll!)
Ice Ice Husky (the pet dog!)

Enjoy the light-up skating rink that actually lights up (and freezes) and your LOL can actually skate on it!
Play in the hot tub that also has a super fun slide (the staircase becomes the water slide).
This one comes with 15-feet of lights (yes, for real) so it's a true disco!
The chimney actually shoots out snow (can you imagine?!)
Take a ride on the working ski lift all day long.
It comes with a super cute snow bus too.
It fits the new LOL Surprise OMG Dolls (and even comes with exclusive LOL OMG DJ with pink hair).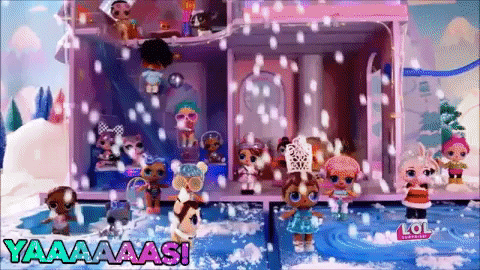 Have you had enough yet?  Our minds are exploding.  Speaking of exploding, it's time to get to the price.
What's This Going to Cost You?
Are you ready?  Take several seats because the suggested retail price is $249.99.  Yes, really.  BUT, we have to say we think it's totally worth it because, well, doll houses can be expensive and that's how we're justifying it.  Plus, if you can swing it, it'll make one heck of a Christmas present.
When is the Release Date?
The Disco Chalet is slated to be released on September 27, 2019 (just in time for the upcoming holidays).  You'll be able to pre-order it as early as September 20, 2019.  Grab your pre-order here now!
New LOL Surprise Winter Disco Chalet – Buy It Here
---
Below is our original review on the LOL Doll House from last year.
Last year all the rage was the LOL Big Surprise and now, well, they're back at it but this time they've created a real dream house made for all their favorite little LOL Surprises!  Move over Barbie Dream House because this is the one worth splurging for.  Here's everything we know, as far, about this amazing place to live.
Overall, this huge house is 3 stories tall and made from real wood (say 'adios' to those cheap plastic ones) and is 3 feet tall and 3 feet wide!  Plus:
Your kiddos can unbox over 85 additional surprises that are included, which makes moving in to this new home a super exciting blast.
It comes with an exclusive family you can move right in.  This family includes a doll, a little sister, and even a pet.
The home has 6 really cool rooms and a working elevator (yes, the elevator actually works).
The first floor has the living room and a real lamp (that works), a kitchen with a kitchen table and chairs, and even a refrigerator.
The second floor has a bedroom with bunk beds and a cute little bassinet. There's also a bathroom that has a toilet that makes flushing sounds and a bathtub with purple rain.  Shout out to Prince!
The third floor has a ginormous walk-in closet with clothes rack and hangers and even a vanity with drawers that work well for storing stuff too!
There's also a spiral staircase on the third floor that will take the dolls up to the helipad and patio.  The patio even changes from day to night.  Can you imagine all the parties up there!
Plus, there's also a real swimming pool for them, a spa, and even a sandbox!
When Does Pre-Order Begin?
You were able to pre order the Surprise House on August 22, 2018.  However, as of today, you can actually order it right now on Amazon and they're showing that they'll ship it out immediately.  While other major retailers will carry it, our advice is to check both Amazon and Walmart, especially once it starts to go out of stock.
More:  Plus, here's a sneak peek of where you can order the new LOL Surprise Bigger Surprise in 2020!
So What's the Price of This LOL Surprise House Supposed to Be?
This is a bit on the pricer side of the must-have toy list this year.  We're talking $199.  It'll most likely be that one big-ticket item on your kids list but, let's be honest, we're sure they'll have at least 5 other requests in this price range too.  Our advice is to get it while you can!
Where to Buy the L.O.L Surprise House – Buy It Here
Plus:  Check out more dollhouses here for the 2020 season!
---
LOL on Sale Today!
---
More Stuff We Love:
All the Gifts Your Kids Want for Christmas (And You'll Love Buying)
Great Ideas for What to Get Your Special Tweens!
Everything You Need to Have the Ultimate Christmas This Year