Just when you thought the most innovative ways to unbox a toy was over, think again.  Introducing the new Pop Pop Hair Surprise, the collectible toy that literally pops into your life.
If it's one thing we love, it's a new and innovative way to unbox our toys.  One of the coolest ways we've seen was the Blume Doll sprouting from her flower pot after you watered her.  Well this time around water is still involved during the unboxing and so is a major POP!  Here's everything we know.
So What Exactly is Pop Pop Hair Surprise?!
Pop Pop Hair Surprise is the brand new 3-in-1 surprise that pops into your life with super cool, colorful, and funky brushable hair that you can actually style, braid, play with, and more! What's really cool about this is that with each one you'll get 3 characters in 1.  Each one comes with:
The Pop Brush that you can use on your hair too!
The  Pop Roller.
The Pop Hair Pet that has super cool (and long) hair in a ton of colors and styles!
In Series 1 there are currently 25 different Pop Pop Hair Surprises to collect that come in 4 different themes:
Girly Qs.
Disco 'Dos.
Pretty in Punks.
Bed Heads.
And don't worry there are, of course, ultra rare twins to collect:
Um, we're pretty sure that's a hat-tip to our original favorite twins, Mary Kate and Ashley (Olsen).  Just us?
So How Does This All Work?!
This is actually pretty cool.  When you get 1 of the 25 different Pop Pop Hair Surprises, everything you need will basically be in the cute brush itself.  The brush (which you can use on your hair too) is actually also a spray bottle that you'll need to discover which Pop Pet is inside.  Pull off the bottom of the brush to reveal the spray bottle, fill it with water, and then open up the brush where you'll see a pretty large fabric ball inside.  This is where the fun begins!
Use your spray bottle to spray the fabric ball with water until….POP…the ball pops open revealing the mystery Pop Roller.  The Pop Roller is basically an organized ball of colorful hair.  Unroll it to discover your super cute and lovable pet.  Which did you get?!  But wait, there are surprise accessories too!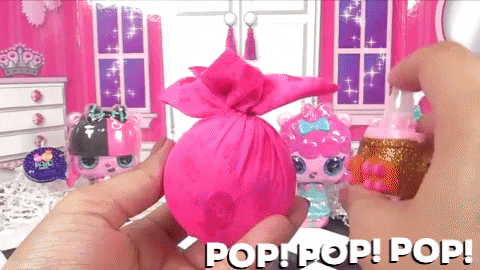 Your kiddos can brush the hair, style it (it comes with a tutorial hair styling guide), add it to their own hair (each pet has an elastic band so they can add super fun colors and styles right into their own hair!), wash the hair, and even use it as a fun pencil topper.  Good luck concentrating on your homework!
What's the Price Going to Be?
This one is somewhat affordable, which is the good news! The suggested retail price is just $9.99.
When is the Official Release Date?
These cute collectibles are slated to be released on September 1, 2019.  You'll be able to pre-order them starting now! Check pre-order status here!
New Pop Pop Hair Surprise – Buy It Here
More Fun:
The LOL Winter Chalet House is No Joke!
The 10 Best Toys For Your Kids in 2021 are Here!
Check Out the Blume Secret Garden Right Now!
Really Neat STEM Toy Ideas to Learn & Have Fun!