Not everyone has the space (or the money) for a built-in dishwasher.  Here's something for the rest of us.
Whether you live in an apartment or just have a home (or office) where a built-in dishwasher isn't an option, but you still don't want to have to wash your dishes by hand (we're not animals, after all) you're still in luck.  There are a variety of compact dishwasher brands out there that can either easily sit on your countertop or comes on wheels and can be moved around your kitchen to best suit your space needs.  Whether you're going the countertop route or the portable route all these dishwashers have one thing in common; you don't need a plumber or electrician to help you install them.  All come with the faucet and hose adapters and can quickly and easily be hooked up to your sink by yourself!  So if you can't wash dishes by hand as quickly as this guy: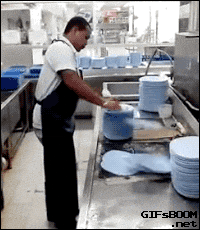 …then check these out.  Here are some of the best countertop and portable dishwashers (so far) in 2022.
1.  Best Selling Countertop Dishwasher (so far) of 2022:  SPT SD-2201 in White – Buy Now Here
This countertop dishwasher may be small in size, but it really packs a punch.  Not only is it one of the top selling dishwashers on Amazon right now (at the time of this initial review), but its height is just 17.24-inches means it'll easily fit between most countertops and cabinets.  It comes with a standard dish rack and silverware basket and will fit and wash up to around 6 standard place settings.  Speaking of '6' you can choose between 6 different washing cycles: heavy, light, normal, soak, glass, and speed.  This dishwasher was pretty easy to set up and it came with the faucet adapter so you don't have to purchase that separately.
Take a look at the inside capacity of this model:
---
2.  Best Portable Dishwasher of 2018:  SPT Stainless Steel SD9241SS Dishwasher – Buy Now Here
This portable dishwasher not only looks sleek AF in stainless steel, but sits on wheels so you can move it around your kitchen depending on where you have the space.  Once you disconnect the hose from the faucet you can easily roll it out of the way if needed.  We loved that it has an Energy Star Rating and, while it's still compact, it can fit up to 8 standard place settings.  It's somewhat programmable where the time delay feature allows you to set it anywhere from 1 to 24 hours so you can have it go on when it's most convenient for you.  Choose from the 6 wash cycle settings like: all-in-one, normal, light, heavy, rinse, and speed cycle.  Plus, the upper rack is actually adjustable so it'll fit those larger pots and pans you don't feel like washing by hand if needed.  As usual, it comes with the faucet adapter which is pretty quick and easy to set up.
---
3.  Edgestar DWP61ES Portable Countertop Dishwasher in Silver – Buy Now Here
This countertop dishwasher is kind of like the energy and money saver of our dreams.  It uses roughly 60% less energy than other similar models and it doesn't waste a lot of water so this can help you save on your monthly water bill.  We loved the easy to use digital LED display controls and that it had a child lock option so you don't have to worry about the young kiddos trying to open it up and 'play house' with your forks and knives!  This compact dishwasher will wash up to six standard place settings and has six washing cycles.  Another added bonus is that it has an internal water heater and when mixed with the heavy wash cycle it can help eliminate germs and bacteria by boosting water temperature up to 149 degrees.  It also has a delayed start option so you can program the dishwasher to begin washing when it's most convenient for you.  The 5-foot hose comes with this model and is really easy to set up.
Take a look at that inside capacity:
---
It's the Home Depot dishwasher sale we've been waiting for all season! Right now you can save up to 32% on some of the best-selling dishwashers being sold right now. And it's brands you can totally trust (and love) like Whirlpool, Maytag, GE, KitchenAid, and more! All of these select dishwashers are front controlled as well so you can see exactly what your cleaning options are without having to open the dishwasher door. Score!
More
Less
100% editorially chosen + written. Check with retailer promo code policy for all deals this month. Prices and promotions valid at time of creation.
More: Check Out Your Favorite Dishwasher on Sale Right Now in 2018
---
4.  Invation Compact Countertop Dishwasher in Black – Buy Now Here
This sleek looking countertop dishwasher is perfect for any apartment or even an RV thanks to its compact size.  Measuring in at only 17-inches high it'll easily fit on top of most counters and not hit the cabinets above it.  The interior is durable stainless steel and the outside has an easy to use touch button control panel.  Choose from six different washing cycles like heavy, normal, glass, rinse, speed, and eco.  It also has a super strong and durable spray arm that will clean off even the peskiest of food particles.   If black isn't your color, this one also comes in white for the same price.
Take a look at the inside capacity:
---
5.  SPT SD 9241 Portable White Dishwasher on Wheels – Buy Now Here
If you're looking for a truly portable dishwasher that can clean larger place settings this is your best bet.  Easily wash up to 8 standard place settings and move the upper rack to fit in those larger than normal serving dishes, pots, pans and more.  Plus, you can program your washing cycle to begin when you want it to (from 1 hour all the way up to 24-hours).  The six washing cycles to choose from include heavy, normal, light, rinse, all-in-one, and speed cycle.  And did we mention this one is on wheels so move it around and store it where you need to (easily) when not in use.
---